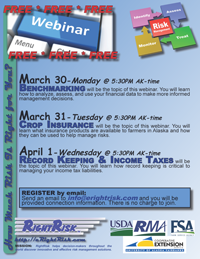 RightRisk is pleased to be able to offer three FREE webinars for farmers, gardeners, landowners, and others in Alaska. Collaborating with the effort will be USDA Farm Service Agency, USDA Risk Management Agency, UFF Cooperative Extension, and several other producer groups.
Webinar 1 – Monday, March 30th. Participants will learn how to analyze, assess, and use their financial data to make more informed management decisions.
Webinar 2 – Tuesday, March 31st. Participants will learn what insurance products are available to Alaskan farmers and how insurance can be used to help manage risks.
Webinar 3 – Wednesday, April 1st. Participants will learn how record keeping is critical to managing income tax liabilities.
All three webinars begin at 5:30 pm (AK time) and will last about one hour. Participants will hear from experienced speakers and have opportunities to ask questions.
Registering for the webinars is easy. Simply send an email to info@erightrisk.com. You will then be provided the information needed to connect into the webinar.
We look forward to you joining us for one or all of the webinars. Click the link to view a webinar flyer that can be printed as a reminder of the webinars. Please feel free to forward this email and/or the flyer to your friends and neighbors.
Remember, these webinars are FREE to you.